You are here
Back to top
Easy Everyday Sourdough Bread Baking: Beginner-Friendly Recipes for Delicious, Creative Bakes with Minimal Shaping and No Kneading (Paperback)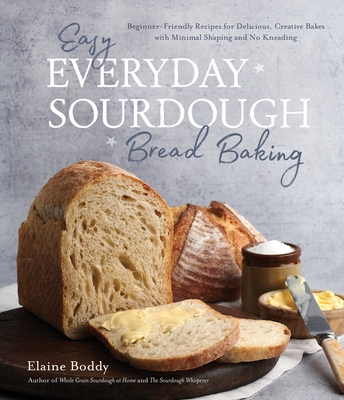 $22.99

Usually Ships in 1-5 Days
Description
---
The Best Bread in the World Made as Simply as Possible

Baking homemade sourdough can often seem like a complex, time-consuming task, but Elaine Boddy is here to prove that this incredible, delicious and healthy bread is within reach of everyone, any day of the week—no matter how busy your life is. A trusted author and teacher when it comes to all things sourdough, she returns with her simplest, most versatile recipes yet. Hands-off methods such as overnight proofing and plenty of same-day recipes ensure that even with a hectic schedule and limited budget you can successfully create bakery-level bread in your own kitchen. Elaine has also utilized common baking pans and trays to remove the difficulty of extensive shaping—saving you time and effort while still producing delicious results.

Classic options include focaccia, sandwich loaves and baby boules, along with unique and flavorful breads such as Raspberry, Chocolate and Honeycomb Snug Swirls; Same- Day Goat Cheese and Spice Seeded Braid; and Hasselback Garlic-Butter Grainy Rolls. With Elaine's inspiring collection of 60 masterful recipes, making your own bread is sure to become a wonderful and delicious part of your everyday life.
About the Author
---
Elaine Boddy is the author of The Sourdough Whisperer and Whole Grain Sourdough at Home, as well as the founder of foodbod Sourdough. She virtually teaches home bakers all over the world how to make sourdough. Elaine lives with her family in Milton Keynes, England.
Praise For…
---
"Elaine's down-to-earth approach to real-world everyday baking is the key to unlocking that perfect sourdough recipe right from the start."
— Tiffany Dahle, author of The Ultimate Bread Machine Cookbook

"Elaine has removed the guesswork and anxiety out of the process of baking sourdough bread by offering crafty tricks to avoid its most challenging steps. With Elaine by my side, I can achieve no-fuss sourdough bakes every day, and that makes me very happy."
— Tish Boyle, managing editor of Pastry Arts Magazine

"All of Elaine's recipes are simple to follow and packed full of useful hints and tips!"
— Scott Deley, author of The Ooni Pizza Project

"The transformation of flour and water into sourdough is made so much easier with Elaine Boddy's expertise and guidance. This is her best book yet, with a simple and nofuss approach to sourdough baking."
— Mary Thompson, author of Gluten-Free Sourdough Baking