You are here
Back to top
Memory Activity Book: 100+ Brain Exercises to Supercharge Your Memory (Paperback)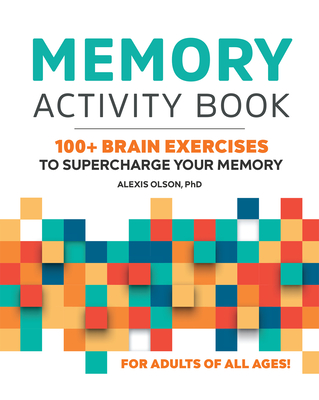 Description
---
Boost your memory with activities for improving brain health
Every day, you make use of various types of memory and supportive thinking skills—and you want them to be as sharp as possible. With more than 100 exercises that target cognitive function, this memory book can help you get better at absorbing information and recalling it whenever you want. You'll learn about six key thinking skills, how they're used in everyday life, and techniques for working more effectively with each one.
Enhance cognitive function—Explore focused exercises that help you harness your cognitive skills, including short-term memory, attention to detail, and processing speed.
Build memory over time—Find exercises that start super simple and grow more complex so you can progressively increase your memory.
Optimize brainpower—Get pointers for supercharging your brain health through nutrition, exercise, sleep, and more.
Keep your mind sharp for life with evidence-based activities for strengthening your memory.
About the Author
---
Alexis Olson, PhD, specializes in neuropsychological evaluations and therapy for individuals affected by brain injury and chronic pain/illness. Her background includes a PhD in Clinical Psychology from UCSB and postdoctoral training at UC Davis Medical Center, as well as Advanced Neurobehavioral Health in coordination with UCSD. Learn more at DoctorOlson.com.
Praise For…
---
"Ingenious memory exercises for ultimate brain health. I highly recommend this book to my patients and family members alike." —Jennifer A. Barton, PsyD, clinical neuropsychologist

"When patients express concerns about aging, their first question is always "What can I do to strengthen my memory?" Dr. Olson's book provides an excellent response, with a variety of engaging activities that includes something of interest for everyone." —Erik Lande, PhD, author of Does My Mom Have Dementia?

"This is a creative and helpful book to work on memory! Dr. Olson's expertise is evident in the creative and thoughtful exercises. The activities are fun to do, and I find myself practicing them throughout the day. This is a great book for anyone looking to strengthen their memory!" —Mercedes F. Oromendia, clinical psychologist