You are here
Back to top
Container Gardening For Beginners: A Guide to Growing Your Own Vegetables, Fruits, Herbs, and Edible Flowers (Paperback)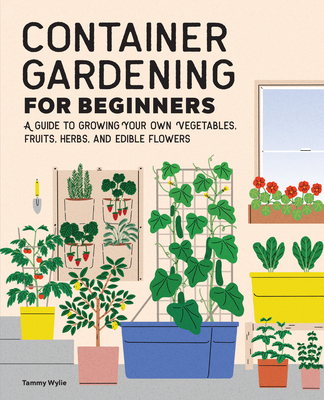 $16.99

Usually Ships in 1-5 Days
Description
---
Everything you need to grow a thriving garden in containers
Whether you're on a budget, live in a small space, or simply want to raise a new plant or two, container gardening is a practical method for urban and suburban gardeners alike.
Container Gardening for Beginners
is packed with information and advice for using different types of containers to grow your own vegetables, herbs, fruits, and flowers.
Learn how to get started, from gathering the tools you'll need to choosing the right container and soil mix. Once you've covered the basics, you'll get advice on what you should plant and when, when to water and how, and finally, how you can successfully grow and harvest your crop.
Container Gardening for Beginners
includes:
Step-by-step guidance—Find detailed gardening guidance from start to finish, including things to know before you grow, how to start seeds, plant care and maintenance tips, and how to tell when your crop is ripe.
Basic best practices—Grow happy, healthy plants with expert gardening insights to set you up for success, from making sure your container is properly sized to regularly fertilizing your soil.
Illustrated plant profiles—Choose the right plants for you with info on the particular needs and characteristics of 30 different fruits, vegetables, herbs, and flowers.
Start and sustain a flourishing container garden with help from the practical advice in
Container Gardening for Beginners
.
About the Author
---
TAMMY WYLIE was introduced to the joy of raised-bed gardens almost 30 years ago. She and her husband are lifelong gardeners, as well as the founders of Advance Greenhouses (www.advancegreenhouses.com), a website where they share advice on gardening, building greenhouses, and more. She also created and contributes to the blog Grow Your Own Food… Anywhere (www.growyourownfoodanywhere.com).
Praise For…
---
"Container Gardening for Beginners is the perfect resource for a new container gardener. It provides step-by-step guidance in choosing soil, container sizes, and basic gardening information particular to the nuances of container gardening. The individual plant profiles provide handy references that anyone growing in containers can continue to refer to over and over. Highly recommend for anyone growing edible crops in containers!" —Jill McSheehy, author of Vegetable Gardening for Beginners and host of the Beginner's Garden Podcast

"Container Gardening for Beginners makes gardening feel easy, fun, and totally accessible to anyone who might have questions about growing edibles or has limited space. Tammy Wylie has a great sense of what beginner gardeners need to know and covers everything from choosing or making containers, to soil and planting. I love the plant profiles section because you can decide what plants will work best for you. It helped me create a plan with my kids before I took them to our local nursery, where it's easy to get overwhelmed with choices and varieties of plants." —Brandy Stone, author of Gardening for Kids: Learn, Grow, and Get Messy with Fun STEAM Projects (brambleglen.com)

"This book covers all the basics you'll need to get started with container gardening. There's plenty of guidance on how to fill your containers; how, when, and where to plant them; how to figure out if you're watering enough; and so much more. You won't be lost if you're a total newbie, but you'll probably learn something even if you've been gardening for years. The second half of the book is plant profiles, similar to what you'd find in other gardening books, but there are some fun, unusual surprises here as well as suggestions for what size container to use for each plant." —Mary Schleifer