You are here
Back to top
It's Impossible to Commit to Maybe: A Bold Guide for Business Managers (Paperback)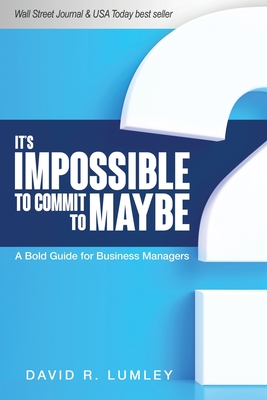 $18.95

Usually Ships in 1-5 Days
Description
---
How can you better understand, learn, and implement plans and actions to further your business career? The company you work for? The people you work with, for, and manage?
You commit to it
It's Impossible to Commit to Maybe--a bold guide for business managers--provides the "how-to" lessons and proven recommendations for managers of all levels. Told in a firsthand, to-the-point manner and in real-life examples, former CEO Dave Lumley presents key business issues, his and others' learnings, and successful techniques to provide a winning approach to reaching your goals.
Based on almost four decades of success at several public Fortune 500, private, private equity-owned, and family businesses and a record of seven straight company turnarounds, Dave Lumley lays out your choices and the how-to steps to help you move forward with confidence.
DRL tells it like it is. His track record speaks for itself. His teams and former managers all say the same thing--was challenging, but DRL's approaches work
--Key Equity owner
"Everyone wants change--unless it affects them " So said Dave Lumley. Once we got it and got on board, we did hit our goals for five straight years
--former marketing director
Go with your strengths. Dave Lumley proposed to me when I asked, should I get an MBA and would it help me become a VP? I listened, I did it. Now I am an SVP
--former sales manager
How to make your bonus (every year). Dave outlined for us how to do that in the first year we worked together. Well, it worked every year. It's all there in the book. Take a look
--former division president
Who the CEO is at your company is very important--for the company, of course, but also for you. Dave Lumley's experiences, learnings, and outline here, "The CEO Blender," are worth the price of his book alone
--former CFO