You are here
Back to top
Muy Bueno: FIESTAS: 100+ Delicious Mexican Recipes for Celebrating the Year (Mexican Recipes, Mexican Cookbook, Mexican Cooking, Mexican Food) (Hardcover)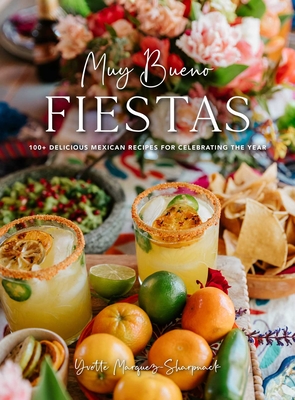 $39.99

Usually Ships in 1-5 Days
Description
---
Celebrate any occasion with this stunningly designed cookbook, featuring 100+ recipes for traditional and contemporary Mexican-inspired cuisine as well as DIY crafts that make every event a fiesta!

You'll discover how to show your love on Valentine's Day with Heart-Shaped Berry Empanadas, celebrate Mother's Day with Guava Mimosas, whip up Chile Braised Pork Ribs for Día de los Muertos; make a big batch of Red Chile and Chicken Tamales for the December holidays, and much more. Included along with the over 100 delicious, seasonal recipes are step-by-step instructions for making holiday-themed crafts that are fun for children and grown-ups alike.

With its gorgeous food photography, detailed recipe directions, and wealth of tips to guide you in the kitchen, Muy Bueno: FIESTAS turns every day into a celebration.

100+ RECIPES: Includes a broad selection of classic and contemporary Mexican recipes, including substantial soups and salads, hearty mains, cocktails, and decadent desserts.

RECIPES FOR EVERY OCCASION: Whether you're preparing for a 4th of July BBQ or Mexican Independence Day, cooking for a crowd on Easter, or honoring loved ones on Día de los Muertos, Muy Bueno: FIESTAS features easy-to-follow recipes for all occasions, big and small.

DIY CRAFTS: Instructions for decorative crafts to help set the stage for a memorable occasion!
About the Author
---
Yvette Marquez-Sharpnack is a food blogger, recipe developer and author. Born and raised in El Paso, Texas, she lives in the beautiful state of Colorado with her husband and two children. She draws her culinary inspiration from her late grandmother's old-world northern Mexican recipes, her mother's El Paso home cooking, her favorite childhood dishes, and her travel adventures in Mexico. Yvette combined her passion for Mexican food with her graphic design talent to create MuyBuenoCookbook.com to catalog her family's recipes.

Though she writes primarily about her culinary adventures on her award-winning blog, Muy Bueno, she also is a professional recipe developer, on-camera host, and is the co-author of "Muy Bueno: Three Generations of Authentic Mexican Flavor" and "Latin Twist: Traditional and Modern Cocktails". You can find Yvette online at http://www.muybuenocookbook.com/ and follow her on Instagram and Twitter @muybuenocooking.
Praise For…
---
"Recipes are accessible and appealing to a broad range of palates, complemented by stunning full-color photos that are sure to entice. As a bonus, Marquez-Sharpnack offers crafty decorating tips such as tissue-paper flowers, mini piñatas, and clothespin crosses. Anyone looking to enhance their holiday tables will find Marquez-Sharpnack an expert guide."
— -Publishers Weekly

"These are not simplified recipes; this is Marquez-Sharpnack's heritage, with a few melting pot recipe combinations."
— -Library Journal

"Muy Bueno Fiestas has already become a party planning staple in my household! Yvette has completely removed the hard work of decision making, menu planning, and recipe searching from hosting. This gorgeous and inspiring cookbook will make for many delicious and lasting family memories for years to come."
— - Tessa Arias, Handle the Heat blogger and author of The Ultimate Cookie Handbook  

 

"In this fun collection that includes recipes from her Mexican heritage, her life in the Southern US, and her blended marriage, Yvette Marquez-Sharpnack defines party food in a new way that reflects the reality of Mexican-American families everywhere. You'll find authentically classic dishes like Red and Green Chile Cheese Enchiladas, interspersed with innovative versions such as Corned Beef Brisket Tacos. I can't wait to cook my way through this whole book."
— -Sandra A. Gutierrez, Award-Winning Journalist and Author of The New Southern-Latino Table

"I am so glad Muy Bueno Fiestas exists, because I was already referencing Yvette's recipes for parties, and now I have a whole collection specifically for special occasions! You can be sure all these recipes are approachable and down to earth but also stunning showstoppers on the table!"
— - Dan Whalen, The Food in my Beard blogger and cookbook author

"Yvette writes, 'The secret ingredient is always love,' and indeed, her latest cookbook Muy Bueno: Fiestas is full of love for her family, heritage, and culinary traditions. Yvette is an El Paso native with deep roots that spread from Northern Mexico up to her current home in Colorado. As she takes us through the calendar, marking the special occasions in life with signature recipes such as lamb birria, ranchero burgers, and conchas. Though you don't need to wait for a holiday, as her cheerful voice and colorful photos had me heading to the kitchen immediately."
— -Lisa Fain, James Beard award-winning writer and the author of Homesick Texan Cookbook, The Homesick Texan's Family Table, and Queso

"If there's someone who knows how to throw an amazing fiesta with crazy-good food it's Yvette! This is the book that will inspire you to cook and host a yummy celebration, no matter how big or small."
— -Pati Jinich, chef, cookbook author, and TV Host

"Yvette's new cookbook Muy Bueno: Fiestas is filled to the brim with addictive, perfectly flavorful, and crazy delicious foolproof recipes that will get you in the mood to celebrate. Each page is filled with stunning photography and incredible tips that will have you throwing a crowd pleasing party in no time!"
— - Jocelyn Delk Adams, Award Winning Author of Grandbaby Cakes: Modern Recipes, Vintage Charm, Soulful Memories