You are here
Back to top
Podcasting Made Simple (Paperback)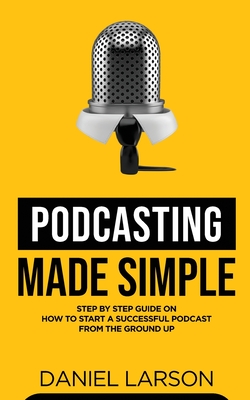 $14.99

Usually Ships in 1-5 Days
Description
---
If you're looking for a step-by-step walkthrough on how to start a podcast right from the ground with no previous experience, then keep reading...
'The medium of podcasting and the personal nature of it, the relationship you build with your listeners and the relationship they have with you - they could be just sitting there, chuckling and listening... there's nothing like that' - Marc Maron
Podcasting is the expressional medium with therapeutic value we've been missing in our lives for decades. Luckily, popularity has been growing exponentially over the last few years - did you know the number of Americans who are weekly podcast listeners over the last 7 years has tripled? Let alone a 24% increase in the UK from 2018-2019.
Although there's never been a better time to get into podcasting, with all the contradicting and often false information scattered all over the internet, it's no wonder why so many people often struggle to find a starting point when there's so many conflicting views on what the best quality equipment is, what launch strategy should be used, and even editing. In fact, it can even create the illusion that starting a podcast is a daunting and time-consuming process.
You might be reluctant to commit to something you lack both knowledge and experience in or you're worried that when you do make that leap there'll be no one on the other side listening? Maybe you're skeptical of whether you'll be able to get guests on as a newbie with no name to yourself.
In Podcasting Made Simple you will discover:
The X factor that leaves listeners craving their next fix of your content
The secret to creating an immersive parasocial relationship with your audience
Why trying to monetize incorrectly can actually ruin your chances of turning your hobby to an income
Why many podcasters' advertisement and promotion actually repels potential listeners
How to create a loveable personal brand through emotional familiarity
The simple, straight forward guide to recording and editing (equipment recommendations included).
5 simple tricks to make postproduction a breeze
How to choose and execute the launch strategy that's right for you
Why over half of podcasts are given up on by 6 months down the line
How to format the perfect email that will get sponsors running your way, even if you have a low listenership
Unique ways to start attracting guests, and become an authoritative figure
The pre-guest ritual that guarantees a free-flowing interview
The single most important voice technique that you can use to differentiate your show from competitors

This digestible guide is made for people who have no experience, so yes, this will work for you even if you've never spoken into a microphone. Even if you're not a technology guru, and have no presence on social media. Even if you have an extremely busy schedule and a low budget. Even if you think your content ideas are absolutely absurd and no one will listen. Even if there are thousands of podcasts similar to yours already published, and you have no marketing experience