You are here
Back to top
Works Rally Mechanic: BMC/BL Works Rally Department 1955-79 (Paperback)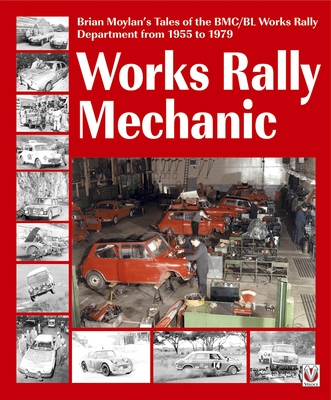 Description
---
Works Rally Mechanic is the inside story of the BMC/BL Competition Department from 1955 to 1979.

From a works mechanic's point of view, Brian Moylan tells how competition cars were prepared, how rally support was organised and graphically describes what it was like to repair and service cars in difficult conditions, and against the clock.

Brian prepared cars for international rallies for 22 years, providing service support for 'Big' Healeys, Minis & TR7s. This book tells of the adventures, hilarious events, hardship, winning, losing, and real danger.
About the Author
---
Brian Moylan started working for MG in 1950 as a mechanic in the service/repair shop. In 1955 he was drafted in to the Racing Department, which was the center for all BMC competition work. During his time there he was fortunate enough to work on several rally winning Minis including the 1967 Monte Carlo Rally winner. Just before the factory closed in 1980 Moylan was offered the position of manager of a small satellite Morris Garages outlet. He has always been involved in the MG Car Club, serving on the committee of the local Centre in various capacities. Since his retirement he has started giving slide shows on MG history and  writing articles for the leading Classic Car magazines, plus three books on MG and rally connected subjects. Moylan also works closely with the Abingdon Museum setting up MG Exhibitions.