You are here
Back to top
Nature Swagger: Stories and Visions of Black Joy in the Outdoors (Hardcover)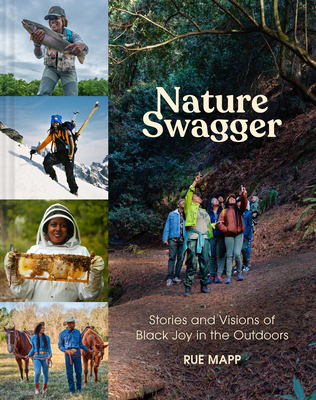 $24.95

Usually Ships in 1-5 Days
Description
---
An exquisite combination of beautiful photography and compelling stories, this book from Outdoor Afro founder, Rue Mapp, celebrates Black joy in nature.
Filled with breathtaking photography, inspiring stories, profiles, and spotlights from Outdoor Afro group members, prominent Black leaders in outdoor spaces, and other organizations, this book inspires Black communities to reclaim their place in the natural world. Interspersed throughout are essays from Mapp on the rich history of Black involvement in the outdoors, activism, and conservation, as well as resources for readers who want to deepen their own connection with the elements. A perfect blend of gorgeous photographs, awe-inspiring stories, and Black history, this collection is the perfect gift for anyone looking to heal in these sacred natural spaces.
INCREDIBLE ORGANIZATION: Outdoor Afro is a leading organization in the promotion of Black involvement and interaction with the outdoors. Their powerful work is leaving positive, lasting effects on the Black community and broader conservation community.
ACCOMPLISHED AUTHOR: Rue Mapp's rich involvement in the outdoors and her connections with like-minded individuals and organizations offer a unique approach to educating, motivating, and encouraging Black connection with nature.
INSPIRATIONAL AND UNIQUE: This book showcases Black joy and strength in spaces from which they have either historically been excluded, or less represented, and makes for an inventive and uplifting celebration of Black joy in nature.
A GREAT GIFT: Perfect for the outdoorsy person in your life, this book will make for an excellent boost of inspiration and encouragement all year round.
Perfect for:
Black and brown community members with an interest in nature
Hikers, campers, birders, and backpackers
About the Author
---
Rue Mapp is the Founder and CEO of Outdoor Afro, overseeing a carefully selected and trained staff and national volunteer team. Since Outdoor Afro's inception in 2009 as a blog, Rue has captured the attention and support of millions through a multimedia approach that is grounded in personal connections and community organizing.

Outdoor Afro is a national not-for-profit organization that has become the nation's leading, cutting-edge network in celebrating and inspiring Black connections and leadership in nature. They have offices in Oakland, CA, and Washington, D.C. and leadership networks around the country. With over 100 trained volunteer leaders in 30 states from around the country, OA connects thousands of people to outdoor experiences, and is actively changing the face of conservation. From its grassroots beginning, Outdoor Afro now enjoys national sponsorship and is recognized by major organizations for its role in addressing the ongoing need for greater diversity in the outdoors.