You are here
Back to top
The Moose Paradox (The Rabbit Factor series #2) (Hardcover)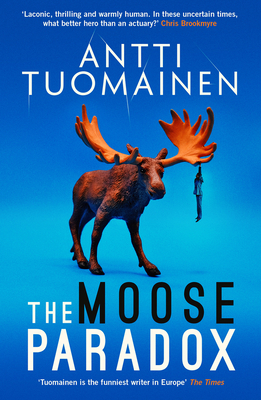 $26.00

Usually Ships in 1-5 Days
Description
---
Insurance mathematician Henri has his life under control, when a man from the past appears and a shady trio take over the adventure park' s equipment supply company … Things are messier than ever in the absurdly funny, heart-stoppingly tense second instalment in Antti Tuomainen' s bestselling series…

' In these uncertain times, what better hero than an actuary?' Chris Brookmyre

' One of those rare writers who manages to deftly balance intrigue, noir and a deliciously ironic sense of humour … a delight' Vaseem Khan

' What a book! Antti has managed to put the fun into funerals and take it out of fun fairs in a gripping nail-biter … a thrilling and hilarious read' Liz Nugent

**Soon to be a major motion picture starring Steve Carell**

_______________________________

Insurance mathematician Henri Koskinen has finally restored order both to his life and to YouMeFun, the adventure park he now owns, when a man from the past appears – and turns everything upside down again. More problems arise when the park' s equipment supplier is taken over by a shady trio, with confusing demands. Why won' t Toy of Finland Ltd sell the new Moose Chute to Henri when he needs it as the park' s main attraction?

Meanwhile, Henri' s relationship with artist Laura has reached breaking point, and, in order to survive this new chaotic world, he must push every calculation to its limits, before it' s too late…

Absurdly funny, heart-stoppingly poignant and full of nail-biting suspense, The Moose Paradox is the second instalment in the critically acclaimed, pitch-perfect Rabbit Factor Trilogy and things are messier than ever…

________________________________

' Finnish crime maestro Antti Tuomainen is unique in the Scandi-crime genre, infusing his crime narratives with the darkest humour … [his] often hilarious, chaotic narrative never vitiates the novel' s nicely tuned tension' Financial Times

' Enter hitmen, serendipity, offbeat comedy and the reappearance of literally the last person Henri expects to see … unlike anything else out there' The Times

' A thriller with black comedy worthy of Nabokov' Telegraph Book of the Year

Praise for The Rabbit Factor Trilogy

**Shortlisted for the CWA Crime in Translation Dagger**
**Shortlisted for the Last Laugh Award**

' The antic novels of Antti Tuomainen prove that comedy is not lost in translation … Tuomainen, like Carl Hiaasen before him, has the knack of combining slapstick with genuine emotion' The Times

'The funniest writer in Europe, and one of the very finest … original and brilliant story-telling' Helen FitzGerald

' British readers might think they know what to expect from Nordic noir: a tortured detective, a bleak setting, a brutal crime that shakes a small community. Finnish crime novelist Tuomainen turns all of this on its head … The ear of a giant plastic rabbit becomes a key weapon. It only gets darker and funnier' Guardian

' Dark, gripping and hilarious … Tuomainen is the Carl Hiaasen of the fjords' Martyn Waites

' A triumph, a joyous, feel-good antidote to troubled times' Kevin Wignall

' Finland's greatest export' M.J. Arlidge

'You don' t expect to laugh when you' re reading about terrible crimes, but that' s what you' ll do when you pick up one of Tuomainen' s decidedly quirky thrillers' New York Times

' Tuomainen is the funniest writer in Europe' The Times

' Right up there with the best' Times Literary Supplement

' Tuomainen continues to carve out his own niche in the chilly tundras of northern' Daily Express
About the Author
---
Finnish Antti Tuomainen was an award-winning copywriter when he made his literary debut in 2007 as a suspense author in 2013, the Finnish press crowned Tuomainen the 'King of Helsinki Noir' when Dark as My Heart was published. With a piercing and evocative style, Tuomainen was one of the first to challenge the Scandinavian crime genre formula, and his poignant, dark and hilarious The Man Who Died became an international bestseller, shortlisting for the Petrona and Last Laugh Awards.
David Hackston is a British Translator of Finnish and Swedish literature and drama. Notable publications include The Dedalus Book of Finnish Fantasy, Maria Peura's coming-of-age novel At the Edge of Light, Johanna Sinisalo's eco-thriller Birdbrain, two crime novels by Matti Joensuu and Kati Hiekkapelto's Anna Fekete series (which currently includes The Hummingbird, The Defenceless and The Exiled, all published by Orenda Books). He also translates Antti Tuomainen's stories. In 2007 he was awarded the Finnish State Prize for Translation.
Praise For…
---
"Charming, funny and clever, this is a novel to cheer up anyone who is finding life a little tough." —Literary Review

"The Moose Paradox is a fun mystery novel about the surprising dangers of the Finnish adventure park business." —Foreword Reviews

"Unlike anything else out there." —The Times

PRAISE FOR RABBIT FACTOR:

"Full of refreshing wit and wisdom, this comic departure from the usual Scandi noir is a treat." — Publishers Weekly starred review

'British readers might think they know what to expect from Nordic noir: a tortured detective, a bleak setting, a brutal crime that shakes a small community. Finnish crime novelist Tuomainen turns all of this on its head … The ear of a giant plastic rabbit becomes a key weapon. It only gets darker and funnier' —Guardian

"Contains all the main elements of a dark crime/comedy mixed with a peculiar love story that is destined to move and engage the audience. Fans of the Finnish author's previous work should definitely read this one and the same goes to all those who love quirky crime novels with unique characterization. I will be eagerly waiting for the second installment in the series." —Tap the Line
'Laconic, thrilling and warmly human.
In these uncertain times, what better hero than an actuary?' —
Chris Brookmyre
'The funniest writer in Europe, and one of the very finest
. There is a beautiful rhythm and poetry to the prose … original and brilliant story-telling' —
Helen FitzGerald
"This mix of slapstick and dry wit... is a refreshing change from the decidedly gloomier crime fiction for which Scandinavia is known" — 
Publishers Weekly
"Delightfully funny" — 
The Guardian