You are here
Back to top
The Battle of Lützen 1632: A Reassessment (Century of the Soldier) (Paperback)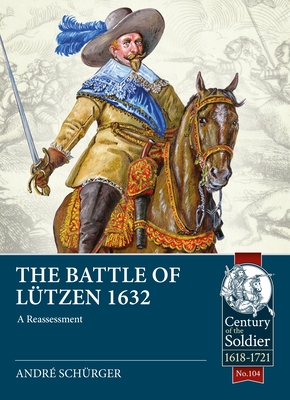 Description
---
In 1632, the Thirty Years War (1618-1648) took another turn. Gustavus Adolphus's triumphal campaign in the Holy Roman Empire was halted at Ingolstadt, Bavaria, where the Imperial-Leaguist Generalleutnant Tilly died of wounds received in the battle Rain am Lech. The former commander of the Imperial army, Generalleutnant Wallenstein, who had lost command in 1630 due to political intrigue at the court of Vienna, was re-instated as Generalissimus.

Wallenstein refused an initial battle on open ground against the Swedish King by entrenching his army at N rnberg and then forced Gustavus Adolphus to retreat by cutting his supply lines. With winter near, Wallenstein deployed his regiments into garrisons throughout Saxony, like N rnberg a Swedish ally. During this maneuvering, the Swedish King almost took Wallenstein's rear guard by surprise at the town of L tzen.

During this battle, two of the most famous and brilliant commanders of the Thirty Years War tried to end the war with one fierce battle. At the end, one lost his life and the other lost his will to fight on.

One day after the battle, the mystery of Gustavus Adolphus' death was used to twist the facts about the battle, a legend that continued into modern times. This book includes the results of a systematic four-year metal detector survey conducted on the L tzen Battlefield during a research project, which set out to create a new data source by mapping several thousand battle related artifacts and excavating archaeological testing to shed light on Wallenstein's 'trenches'. Work on late 16th and early 17th Century firearms was conducted to evaluate the lead bullets from the battlefield and create artifact distribution maps.

All historical sources, written and pictorial, were reviewed, and the locations of eyewitnesses pinpointed to assess their credibility and accuracy. Their accounts were compared to the archaeological results, then introduced into a landscape analysis to highlight topographic features affecting tactical movements.

The battle was divided into several episodes through which the reader is guided step-by-step through the battle by interpreting and evaluating every available source dealing with each event. Discussing the reliability of eyewitnesses and secondary sources, the potential and limits of battlefield archaeology, and assessing weapon efficiency, troop speed, tactics, line of sight, and topographic features will help the reader better understand the methodology of battle research.