You are here
Back to top
A Champion's Path: Race Team Strategies for Business (Paperback)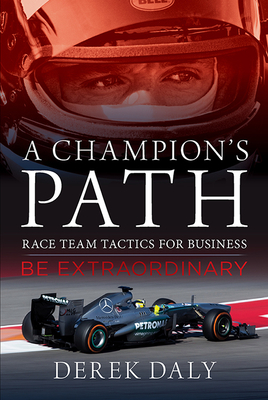 $10.95

Usually Ships in 1-5 Days
Description
---
A Champion's Path describes the tactics and strategic cultures adopted by world-class racing teams and delivers a roadmap for businesses seeking to shift their teams from great to extraordinary. Author and motor racing legend Derek Daly is a former Formula One and Indy 500 Driver, long-time network TV analyst, entrepreneur, and sought-after keynote speaker. In his latest book, he uses his decades of experience on the track, and as a first hand observer, to provide an authoritative look at the winning philosophies of exceptional teams in one of the most competitive environments on the planet.

Modern racing is a sport of exacting human performance that operates under constant pressure in compressed time frames, with winning teams understanding that critical performance gains occur at the outer margins and boundaries of people and equipment. Derek Daly draws a parallel with the challenges faced by 21st century business, in a world where new technology, globalization and increased regulation put pressure on companies to be faster and smarter than the competition.

A Champion's Path provides a compelling and easy to follow frame of reference to enable business leaders to understand how to access the winning spirit in all of us, which in turn fuels sustained high performance from their workforce. In his book, and when he speaks to business audiences around the world, Daly presents fascinating anecdotes and concrete examples which explain where extraordinary lives--and how to get there.