You are here
Back to top
The Wiley Canning Company Cookbook: Recipes to Preserve the Seasons (Hardcover)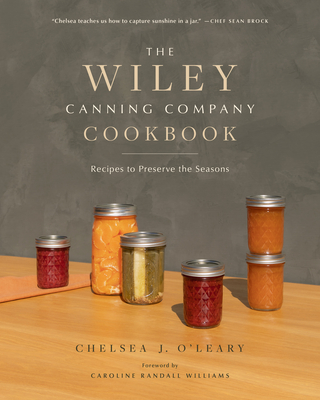 $35.00

Usually Ships in 1-5 Days
Description
---
LOCAL. LASTING. DELICIOUS.
The Wiley Canning Company Cookbook is a guide to home food preservation rooted in seasonality, education, and family.
Chelsea J. O'Leary focuses equally on seasonal recipes and the foundational knowledge required to preserve food with sharp intuition and holistic understanding. No matter where you live--a downtown high-rise, suburban bungalow, or countryside ranch--these recipes are for you. In fact, most recipes can be created using produce picked up from any local farmers' market.
As you use this cookbook, you will become a steward of your local land, farms, and home.
INSIDE YOU'LL FIND:
A case for why home food preservation matters today more than ever
45 seasonal canning, pickling, preserving, and freezing recipes
Tips and tricks to create an intuitive and efficient workflow in your kitchen
The history, science, and safety of home food preservation
Resources to further expand your personal preserving practice
About the Author
---
Chelsea J. O'Leary is a Nashville-based artist, entrepreneur, and home food preserver. She is the founder and owner of Wiley Canning Company, a company dedicated to canning, pickling, and preserving local and seasonal fruits and vegetables. Chelsea creates recipes and hosts workshops to teach others to can, pickle, and preserve as well. She explores photography through both a film and digital format, and she is especially drawn to photographing fruits and vegetables. When she is not canning, pickling, preserving, or creating photographs, she values and seeks meaningful, curiosity-driven dialogue with others. She loves to write and run, in the woods or through the city, and she cherishes time spent with her husband, Jared, and son, Sullivan. You might find them at a local farmers' market, park, or nearby wooded trail.