You are here
Back to top
Hire Who You Want: Attract and Keep the Perfect Employees (Paperback)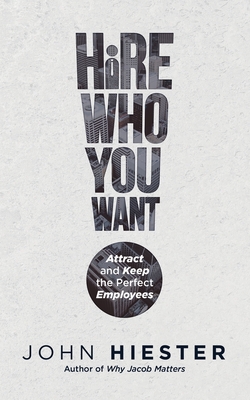 $15.99

Usually Ships in 1-5 Days
Description
---
In Hire Who You Want, John Hiester provides insightful and actionable wisdom on how to attract and retain talent. Using personal anecdotes and stories, John guides business owners through the mindset and best practices needed to improve their hiring process. Timely and necessary, Hire Who You Want addresses our current employment crisis while still remaining relevant across time and industry.
In John Hiester's first book Why Jacob Matters, he taught business owners how to achieve greatness by defining it for themselves, and building a culture of accountability. Now, he returns with a book committed to understanding the needs and motivators of an elusive labor force.
Whether you are a small business looking to hire your first employee, or upper management in a large corporation, Hire Who You Want will equip you with the skills, knowledge, and expertise to not only attract talented, loyal, and hardworking employees but how to keep them for years to come.
John Hiester is the founder and CEO of Hiester Automotive. He is an award-winning speaker, author, and business owner.