You are here
Back to top
World War One: 1914-1918 (Campfire Graphic Novels) (Paperback)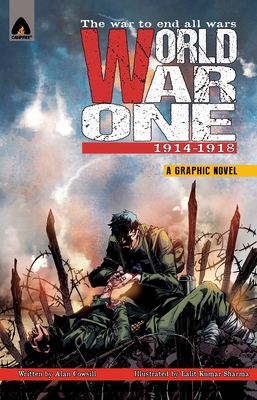 Description
---
"The lamps are going out all over Europe, we shall not see them lit again in our time."
-Sir Edward Grey, British Foreign Secretary

The First World War, also known as the Great War, involved over thirty nations and resulted in the deaths of millions of young men.  This stunning new book brings history to life as we see the war through the eyes of the young conscripted servicemen on all sides of the conflict. Introducing the advent of tanks, airplanes, air raids, submarines and gas attacks, we take a close look at the first modern war of the 20th Century. From the assassination of Archduke Franz Ferdinand in Sarajevo to the Treaty of Versailles we see for ourselves what life was like in the trenches, on the home front, at sea and in the air. This is more than just a history book; it is a fully illustrated journey into another age.

We follow the fortunes of a group of young conscripts and volunteers to discover what life was really like in the trenches and how they coped with returning home after the horrors of the front line.
About the Author
---
Alan Cowsill started out as a comic dealer before becoming a writer and editor. He co-created Stormwatcher for Acme/Eclipse before working on Panini UK's Marvel line, writing the first UK-originated Spider-Man strips for over a decade. He created the best-selling Jackie Chan Adventures and the award-winning Classic Marvel Figurine Collection and DC Super Hero Collection for Eaglemoss Publishing. He is presently editing the DC Chess Collection and Batman Automobilia Collection.

 His books include Colin the Goblin (Egmont Books), Warzone: Dark Eden (Target Games), Chronopia, DC Comics: A Year by Year Visual Chronicle, Marvel Avengers Character Encyclopaedia, Avengers: The Ultimate Guide To Earth's Mightiest Heroes and Spider-Man Year by Year: A Visual Chronicle (Dorling Kindersley).
Praise For…
---
The Year's Best Graphic Novel Award, Comicon India 2014


"This historical graphic novel highlights many of the major battles and events of World War I, from the assassination of Archduke Franz Ferdinand to the armistice between Germany and the Allies. . . this account gives readers an insight into the effects—physical, mental, and emotional—that the war had on those who fought. Cowsill presents an excellent balance—providing big-picture information about the important events and key players of World War I, as well as giving an understanding of what life was like for the individual men in the trenches. Sharma depicts the horrors of life on the battlefield in a way that is authentic but not overly intimidating to sensitive readers. Upon completion of this narrative, teens will have an understanding of the enormous impact of World War I, both its far geographic reach and the enormous number of lives lost. At the Great War's 100th anniversary, this volume will appeal to those with very little knowledge of the event, as well as those who are well-versed in the history of this period." —Sarah Reid, Broome County Public Library, in School Library Journal