You are here
Back to top
The Edible Flower Garden (Edible Garden Series) (Paperback)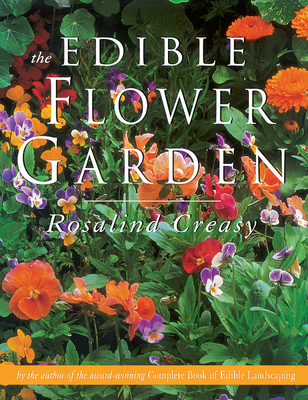 $16.95

Usually Ships in 1-5 Days
Description
---
Learn how to grow lovely and fragrant flowers then use them create delicious meals with this beautifully illustrated flower gardening and cooking book.
Anyone who picks up
The Edible Flower Garden
will be tempted to grow, harvest, and sample at least a few of the more than forty varieties of edible flowers. Among them, you'll find more familiar food plants—dill and mustard, for example—in addition to common flowers, such as tulips or roses. Author Rosalind Creasy's stunning photography and detailed plans for an edible flower garden make this a must-have book for any flower gardener or home chef.
Come along with Creasy on a tour with colorful pictures and careful diagrams and descriptions of her own flower gardens. Included is a tour of the edible flower gardens of Alice Waters famed Chez Panisse restaurant.
Creasy catalogues each variety of flower and how to grow it, plus gives a myriad of delectable ideas on how to use the flower from candied violets and roses to decorate appetizers and cakes, to nasturtiums for a colorful shrimp salad, to daylily buds, pink clover and wild mustard flowers that are tossed together in a spectacular stir-fry.
Favorite Recipes Include:
Flower Butters
Candied Flowers
Tulip and Endive Appetizer
Pineapple Sage Salsa
Rose Petal Syrup
Lavender Ice Cream
And much more…
About the Author
---
Rosalind Creasy, a resident of Los Altos, California, is a landscape designer and leading authority on appropriate gardening techniques as well as a widely published garden writer and popular lecturer. Creasy specializes in residential landscapes that include edible, native, and drought-tolerant plants. She is a winner of the Garden Writers of America's award for excellence, and her articles have appeared in Organic Gardening, Family Circle, Woman's Day, Country Living Gardener, and Horticulture magazines. In addition to Cooking from the Garden, Creasy is the author of Earthly Delights: Twelve Distinctive Theme Gardens, The Gardener's Handbook of Edible Plants and a book for young gardeners, Blue Potatoes, Orange Tomatoes. Her Complete Book of Edible Landscaping received a Garden Writers Association of America's award and has become a contemporary gardening classic.
Praise For…
---
"For me, Ros Creasy is the Mother Goddess of a new generation of American Kitchen Gardeners. She inspires us all by showing how the twin passions of gardening and cooking are connected in history and practice. Her extensive research, combined with a personal writing style that reveals her creative zest, make her book absolute essentials for all gardening cooks." —Renee Shepherd, Owner of Renee's Garden, Gardening Expert and Seed Supplier

"Rosalind Creasy's enthusiasm and knowledge of gardening and cooking never cease to amaze me. Anyone who reads these books will catch Rosalind's enthusiasm and be off running towards a new passion." —A. Cort Sinnes, Editor-At-Large, Gardening How-To

"Whether you are already a flower enthusiast or have never eaten a flower, this book will tempt you. You are drawn into the beautiful and tasty world of edible flowers. Everything you need to know is between the covers of this book—from good I.D. photos of each flower and growing information to general ways to prepare the flowers and what foods they are best in. Even after all of my years of eating flowers, Ros has opened my eyes to new uses for many of my favorite edible flowers." —Cathy Wilkinson Barash, Author of Edible Flowers from Garden to Palate