You are here
Back to top
Cece Loves Science: Push and Pull (I Can Read Level 3) (Paperback)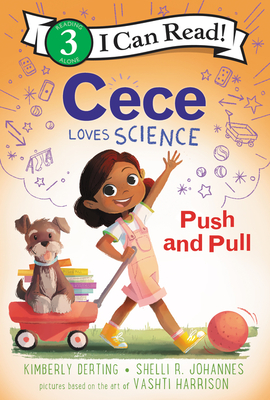 $5.99

Usually Ships in 1-5 Days
Description
---
Cece loves science! In this STEM-themed Level 3 I Can Read! title, Cece and her friend Isaac learn about the opposite forces of push and pull, and use their new knowledge to create a treat dispenser for Cece's dog, Einstein. Perfect for aspiring scientists, emerging readers, and fans of Andrea Beaty's Ada Twist, Scientist. 
Cece loves science—and experimenting! In this Cece Loves Science Level 3 I Can Read!, Cece's teacher, Miss Curie, explains the opposite forces of push and pull. To demonstrate this concept, she divides the class into two teams. Each team must make a treat dispenser for Cece's dog, Einstein, that uses both forces. Cece and her classmates rely on science, creativity, and teamwork—and they learn a lot along the way.
The Cece Loves Science books introduce readers to basic concepts of science, technology, engineering, and math, and are perfect for the classroom. This Level 3 I Can Read! focuses on basic scientific vocabulary and includes a glossary of terms and fun activities for readers to try on their own. A great pick for beginning readers!
About the Author
---
Kimberly Derting is the author of the Cece Loves Science series, the Body Finder series, the Pledge trilogy, and the Taking series. She lives in the Pacific Northwest, where the gloomy weather is ideal for writing anything dark and creepy. Her three beautiful (and often mouthy) children serve as an endless source of inspiration and frequently find things they say buried in the pages of their mother's books. You can visit her online at www.kimberlyderting.com.
Vashti Harrison is the author-artist of the New York Times bestselling Little Leaders: Bold Women in Black History and the artist of the Cece Loves Science series. She earned her MFA in Film/Video from CalArts and BA from the University of Virginia. Her experimental films and documentaries have been shown around the world at film festivals. She lives in Brooklyn, NY.
Shelli R. Johannes is coauthor of nine books in the Loves Science series (co/Kimberly Derting), Theo Thesaurus series, Shine Like a Unicorn, and Penny: An Engineering Tale of the Fourth Pig (Capstone, Fall 2022).
She is also the critically-acclaimed author of teen novels (written as SR Johannes) including the Nature of Grace series (Untraceable, Uncontrollable, and Unstoppable), Rewired, and On the Bright Side.
She can often be found on highways and country roads saving strays and other jaywalking critters, or volunteering with animal conservation groups like the Atlanta Zoo, the Dolphin Project, and Bosley's puppy orphanage. After earning a master's in marketing and working as an executive in Corporate America, Shelli traded out her heels and suits for flip-flops and jeans so she could follow her passion of writing.
She lives in Atlanta with her pack of animals: a British husband, two kids, one bird, one fish, and two crazy Goldendoodles who hate vegetables.