You are here
Back to top
Crime and Punishment: (Penguin Classics Deluxe Edition) (Paperback)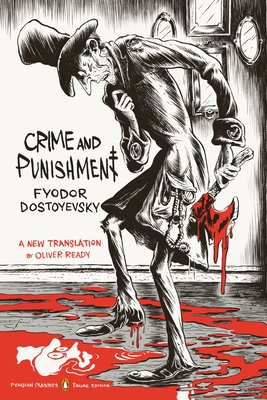 $22.00

Usually Ships in 1-5 Days
Description
---
"A truly great translation . . . This English version . . . really is better." —A. N. Wilson, The Spectator

Nominated as one of America's best-loved novels by PBS's The Great American Read

This acclaimed new translation of Dostoyevsky's "psychological record of a crime" gives his dark masterpiece of murder and pursuit a renewed vitality, expressing its jagged, staccato urgency and fevered atmosphere as never before. Raskolnikov, a destitute and desperate former student, wanders alone through the slums of St. Petersburg, deliriously imagining himself above society's laws. But when he commits a random murder, only suffering ensues. Embarking on a dangerous game of cat and mouse with a suspicious police investigator, Raskolnikov finds the noose of his own guilt tightening around his neck. Only Sonya, a downtrodden prostitute, can offer the chance of redemption.

For more than sixty-five years, Penguin has been the leading publisher of classic literature in the English-speaking world. With more than 1,500 titles, Penguin Classics represents a global bookshelf of the best works throughout history and across genres and disciplines. Readers trust the series to provide authoritative texts enhanced by introductions and notes by distinguished scholars and contemporary authors, as well as up-to-date translations by award-winning translators.
About the Author
---
Fyodor Dostoyevsky (1821–1881) was a Russian novelist, journalist, and short-story writer whose novels Crime and Punishment and The Brothers Karamazov rank among the greatest of the nineteenth century.

Oliver Ready (translator) is a lecturer and research fellow in Russian literature and culture at the University of Oxford. He won the Rossica Translation Prize for his translation of The Prussian Bride by Yuri Buida and the Read Russia Prize for his translation of Before and During by Vladimir Sharov, and he was named Inttranet's 2015 Linguist of the Year for his translation of Crime and Punishment. He is consultant editor at The Times Literary Supplement for Russia and East-Central Europe.

Zohar Lazar (cover illustrator) is a frequent contributor of illustrations to The New Yorker, Rolling Stone, Esquire, GQ, and The New York Times Magazine.
Praise For…
---
"[A] superb translation." —The New York Times

"Before I went [to St. Petersburg], I decided to re-read Crime and Punishment, which I hadn't looked at in 30 years. The new translation by Oliver Ready is superb." —Fareed Zakaria, on CNN's Fareed Zakaria GPS

"I was delighted to discover Oliver Ready's new translation of Crime and Punishment. . . . It is brimful of a young man's rage and energy and bullshit. I adored it." —Peter Carey, Booker Prize–winning author of Oscar and Lucinda and True History of the Kelly Gang

"A truly great translation . . . Sometimes new translations of old favourites are surplus to our requirements. . . . Sometimes, though, a new translation really makes us see a favourite masterpiece afresh. And this English version of Crime and Punishment really is better. . . . Crime and Punishment, as well as being an horrific story and a compelling drama, is also extremely funny. Ready brings out this quality well. . . . That knife-edge between sentimentality and farce has been so skilfully and delicately captured here. . . . Ready's version is colloquial, compellingly modern and—in so far as my amateurish knowledge of the language goes—much closer to the Russian. . . . The central scene in the book . . . is a masterpiece of translation." —A. N. Wilson, The Spectator
 
"This vivid, stylish and rich rendition by Oliver Ready compels the attention of the reader in a way that none of the others I've read comes close to matching. Using a clear and forceful mid-20th-century idiom, Ready gives us an entirely new kind of access to Dostoyevsky's singular, self-reflexive and at times unnervingly comic text. This is the Russian writer's story of moral revolt, guilt and possible regeneration turned into a new work of art. . . . [It] will give a jolt to the nervous system to anyone interested in the enigmatic Russian author." —John Gray, New Statesman, "Books of the Year"

"At last we have a translation that brings out the wild humour and vitality of the original." —Robert Chandler, PEN Atlas

"[A] dazzlingly agile and robust new translation . . . Ready, who has a practiced ear for Russian dialect and a natural grace with English, is exceptionally deft at navigating [the novel's] challenges. . . . [His] introduction teases out the novel's ideological and literary subtexts engagingly, succinctly, and with great nuance. . . . His ability to reproduce the whole heady brew of Dostoyevsky's novel in a consistent but nimble modern English . . . ought to be applauded." —Los Angeles Review of Books

"Oliver Ready's . . . version is outstanding in finding le mot juste for all of Dostoevsky's graphic verbs and odd objects (few Russian writers have a lexical range to equal Dostoevsky's)." —The Times Literary Supplement

"The spirited and sly Oliver Ready translation wins." —PopMatters

"A tour de force built from prose that is not only impeccable in its own right but also perfectly suited to the story, its characters, its epoch and themes. We should treasure this new translation and, indeed, this new book." —New York Journal of Books

"[Ready's] translation is nothing less than a wonder. He mirrors the tonal shifts in Dostoyevsky's original more nimbly than any English-language translator has before, and he catches the dark humor that runs through the book mostly below its surface, and best of all, he captures the essential, unchanging absurdity of Raskolnikov perfectly. . . . This new Deluxe edition . . . has the advantage of feeling very sturdy in the hand—this is a Crime and Punishment truly built for the briefcase and backpack. [It] features a vibrant, eye-catching wraparound cover. . . . Ready's version crackles with grubby, demented vitality—I'm hoping it, and this lovingly twisted Deluxe edition, enjoys a long life as the go-to edition in English." —Steve Donoghue, Open Letters Monthly

"Ready's lively translation . . . succeeds in . . . admirably capturing the psychological intensity of Dostoyevsky's style. . . . [It] replicates natural speech patterns in a way that Pevear and Volokhonsky's rather stilted translation does not. . . . [Ready's] English prose is rhythmic and, at times, poetic. . . . It is [the novel's] sense of frenzy that Ready so brilliantly captures in his new translation, which will ensure that another generation of readers remains enraptured by Crime and Punishment." —Slavic and East European Journal

"Ready's vivid, new version . . . is more than a Titanic idea of a great translation. It is the real thing. . . . Crisp and compelling, building on staccato rhythmic structures to heighten the novel's dramatic tension, then elegantly sidling into Dostoyevsky's abrupt denouement, his translation brings new life to a 150-year-old classic, rendering the familiar in fresh light." —The Wichita Eagle

"A gorgeous translation . . . Inside one finds an excellent apparatus: a chronology, a terrific contextualizing introduction, a handy compendium of suggestions for further reading, and cogent notes on the translation. . . . But the best part is Ready's supple translation of the novel itself. Ready manages to cleave as closely as any prior translator to both spirit and letter, while rendering them into an English that is a relief to read." —The East-West Review

"Oliver Ready's dynamic translation certainly succeeds in implicating new readers to Dostoyevsky's old novel." —The Times Literary Supplement

"What a pleasure it is to see Oliver Ready's new translation bring renewed power to one of the world's greatest works of fiction. . . . Ready's work is of substantial and superb quality. . . . [His] version portrays more viscerally and vividly the contradictory nature of Raskolnikov's consciousness. . . . Ready evokes the crux of Crime and Punishment with more power than the previous translators have . . . with an enviably raw economy of prose." —The Curator

"[An] excellent new translation." —Critical Mass

"Ready's new translation of Crime and Punishment is thoughtful and elegant [and] shows us once again why this novel is one of the most intriguing psychological studies ever written. His translation also manages to revive the disturbing humor of the original. . . . In some places, Ready's version echoes Pevear and Volokhonsky's prize-winning Nineties version, but he often renders Dostoyevsky's text more lucidly while retaining its deliberately uncomfortable feel. . . . Ready's colloquial, economical use of language gives the text a new power." —Russia Beyond the Headlines

"[A] five-star hit, which will make you see the original with new eyes." —The Times Literary Supplement, "Books of the Year"

"I was bowled over, by the novel itself and the utterly brilliant translation, which grabs you by the lapels and doesn't let go. In the course of my work, I go through mountains of nonfiction to try to understand the world. This summer, I was reminded of the power of a novel to uncover something much deeper about the human spirit." —Fareed Zakaria, The New York Times Book Review