You are here
Back to top
Porsche 911: 50 Years (Hardcover)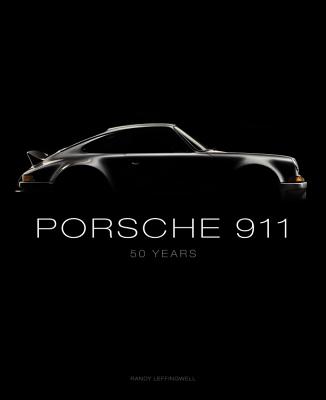 $55.00

Usually Ships in 1-5 Days
Description
---
Best-selling author Randy Leffingwell celebrates a half-century of one of the world's premiere sports cars, focusing on the major themes that have defined Porsche's rear-engined wonder.
Porsche 911: 50 Years
tells the whole story—
design and development
,
racing and competition
,
engineering and technology
,
style and culture
. All the iconic 911 models are included:
The original 901 prototype that set the standard
The legendary RS models that made the little Porsche a dominant force on the world's racetracks
The infamous Turbo, the car that kept the performance flame alight during the dark, dismal decade of the 1970s
The fabled 959, the model that redefined the term "sports car"
The 993, last of the original air-cooled models
The 996, 997, and 991, the liquid-cooled cars that brought the 911 into a new millennium
Beyond telling
the story of the cars
,
Porsche 911: 50 years
also spotlights the people behind them
: Ferdinand "Butzi" Porsche, the son of legendary Porsche founder
Ferdinand "Ferry" Porsche
, who co-designed the instantly recognizable 911 shape;
Peter W. Schutz
, the Porsche CEO who saved the 911 from extinction; and
Dr. Helmuth Bott
, the engineering genius behind many of the groundbreaking technologies that have defined the 911, including fuel injection, turbocharging, and all-wheel-drive.
Leffingwell also tells the story of the
911 community
—the clubs and culture that surround the car.
Together, all of these facets make
Porsche 911: 50 Years
the most essential book in any Porsche owner or fan's library.
About the Author
---
Randy Leffingwell wrote his first book, American Muscle, in 1989 while still on staff at the Los Angeles Times. Since then, he has authored more than 50 other titles, covering subjects from sports cars to motorcycles to farm tractors. Leffingwell is considered one of the top transportation photographers and historians working today. Some of his previous best-selling Motorbooks titles include Art of the Corvette, Porsche 911: Fifty Years, John Deere: A History of the Tractor, and The Harley-Davidson Motor Co. Archive Collection (with Darwin Holmstrom). He lives in Santa Barbara, California.
Praise For…
---
"Porsche 911: 50 Years is above all a celebration of a peculiarly individual car which in a rational world would never have existed and yet survived and prospered through a half century, evolving and adapting but never losing its highly distinct character. No other brand has ever managed this and Leffingwell's achievement is the focus he brings to this compelling story. Some of the face-to-face discussions the author was able to hold with current Porsche movers and shakers would have been impossible only a few years ago and this greater openness has extended to the company's image collection: the book is illustrated by a superb selection of previously unseen Archive photography. Leffingwell has created a splendid monument to the Porsche 911, which more than just the definitive sports car, has defied conformist pressures to become a symbol of endeavour and excellence." - Total911.com
'an exhaustive history of the 911… I wholeheartedly recommend it.'
"Originally published in 2013, Randy Leffingwell's celebration of one of the world's premiere sports cars, is still a top seller more than 3-years later."—
FLATSIXES.com