You are here
Back to top
The New Artisan Bread in Five Minutes a Day: The Discovery That Revolutionizes Home Baking (Hardcover)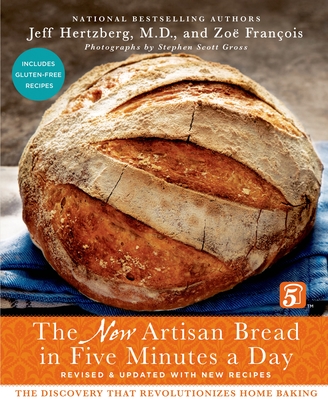 $35.00

Usually Ships in 1-5 Days
Description
---
The New Artisan Bread in Five Minutes a Day is a fully revised and updated edition of the bestselling, ground-breaking, and revolutionary approach to bread-making--a perfect gift for foodies and bakers!

With more than half a million copies of their books in print, Jeff Hertzberg and Zoë François have proven that people want to bake their own bread, so long as they can do it easily and quickly. Based on fan feedback, Jeff and Zoë have completely revamped their first, most popular, and now-classic book, Artisan Bread in Five Minutes a Day.

Responding to their thousands of ardent fans, Jeff and Zoë returned to their test kitchens to whip up more delicious baking recipes. They've also included a gluten-free chapter, forty all-new gorgeous color photos, and one hundred informative black-and-white how-to photos. They've made the "Tips and Techniques" and "Ingredients" chapters bigger and better than ever before, and included readers' Frequently Asked Questions.

This revised edition also includes more than thirty brand-new recipes for Beer-Cheese Bread, Crock-Pot Bread, Panini, Pretzel Buns, Apple-Stuffed French Toast, and many more. There's nothing like the smell of freshly baked bread to fill a kitchen with warmth, eager appetites, and endless praise. Now, using Jeff and Zoë's innovative technique, you can create bread that rivals those of the finest bakers in the world in just five minutes of active preparation time.
About the Author
---
Jeff Hertzberg, M.D. grew up eating great bread and pizza in New York City. He continues to teach the importance of moderation and variety in a healthy diet, and works as a medical director and consultant focusing on health-improvement programs. During his medical residency, he started a years-long quest to figure out how to make dough that was convenient enough to use every day. He turned an obsession with bread and pizza into a second career as a cookbook author.

Zoë François is a pastry chef and baker trained at the Culinary Institute of America. With Jeff Hertzberg, M.D., she is the author of Artisan Bread in Five Minutes a Day and Healthy Bread in Five Minutes a Day, and Pizza and Flatbread in Five Minutes a Day. In addition to co-authoring the Bread in Five Minutes series, Zoë hosts her own TV series, Zoë Bakes, on the Magnolia Network and has written a solo cookbook, Zoë Bakes Cake. Passionate about food that is real, healthy and always delicious, François teaches baking and pastry courses nationally, is a consultant to the food industry, and creates artful desserts and custom wedding cakes. She also writes the recipe blog Zoë Bakes. She lives in Minneapolis, Minnesota, with her husband and two sons.
Praise For…
---
"Every step of Zoë and Jeff's adventures in bread has been fascinating and delicious for us, the home bread bakers who follow them, but this book might be their most exciting yet because they've incorporated years of readers' questions, problems, and discoveries into every chapter. This is truly the all-you've-ever-wanted-to-know edition. And there are plenty of photographs … at last!" —Dorie Greenspan, James Beard Award-winning author of Around My French Table and owner of Beurre & Sel cookies

"A fun, easy-to-follow collection for those who aren't afraid to shun baking traditions." —Publishers Weekly

"With this revised edition, Herzberg and François continue to perfect their already easy and immensely popular bread-baking method. Essential." —Library Journal