You are here
Back to top
The Second Amendment: A Biography (Paperback)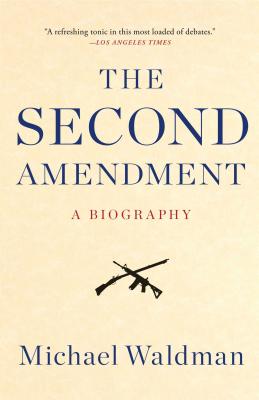 $17.99

Usually Ships in 1-5 Days
Description
---
Widely acclaimed at the time of its publication, the life story of the most controversial, volatile, misunderstood provision of the Bill of Rights.

At a time of increasing gun violence in America, Waldman's book provoked a wide range of discussion. This book looks at history to provide some surprising, illuminating answers.

The Amendment was written to calm public fear that the new national government would crush the state militias made up of all (white) adult men—who were required to own a gun to serve. Waldman recounts the raucous public debate that has surrounded the amendment from its inception to the present. As the country spread to the Western frontier, violence spread too. But through it all, gun control was abundant. In the twentieth century, with Prohibition and gangsterism, the first federal control laws were passed. In all four separate times the Supreme Court ruled against a constitutional right to own a gun.

The present debate picked up in the 1970s—part of a backlash to the liberal 1960s and a resurgence of libertarianism. A newly radicalized NRA entered the campaign to oppose gun control and elevate the status of an obscure constitutional provision. In 2008, in a case that reached the Court after a focused drive by conservative lawyers, the US Supreme Court ruled for the first time that the Constitution protects an individual right to gun ownership. Famous for his theory of "originalism," Justice Antonin Scalia twisted it in this instance to base his argument on contemporary conditions.

In The Second Amendment: A Biography, Michael Waldman shows that our view of the amendment is set, at each stage, not by a pristine constitutional text, but by the push and pull, the rough and tumble of political advocacy and public agitation.
About the Author
---
Michael Waldman is president and CEO of the Brennan Center for Justice at NYU School of Law, a nonpartisan law and policy institute that works to revitalize the nation's systems of democracy and justice. He was director of speechwriting for President Bill Clinton from 1995 to 1999 and is the author of The Second Amendment: A Biography and The Fight to Vote. Waldman was a member of the Presidential Commission on the Supreme Court. A graduate of Columbia College and NYU School of Law, he comments widely in the media on law and policy.
Praise For…
---
"Waldman relates this tale in clear, unvarnished prose and it should now be considered the best narrative of its subject."
— Publishers Weekly

"Waldman offers historical perspective on the fierce debate…A lively and engaging exploration."
— Booklist

"Thoughtful, accessible...useful to anyone arguing either side of this endlessly controversial issue."
— Kirkus Reviews

"The ongoing debate about the Second Amendment and the right to bear arms continues to set off multiple explosions in the blogosphere. Waldman's new book will not make the most zealous NRA advocates happy, but for anyone who wants his or her history of the Second Amendment straight-up, this is the most comprehensive, accessible, and compelling version of the story in print."
— Joseph J. Ellis, author of Founding Brothers

"From the founding of the Republic to the Newtown massacre of elementary school children, and beyond, Michael Waldman vividly portrays the evolution of a nation's passionate debate over the right to keep and bear arms. Activist, conservative justices on the U.S. Supreme Court may have thought they ended that debate in 2008, but with rich detail and crisp narrative, Waldman shows how it continues to reverberate across the landscape with important lessons for all Americans."
— Marcia Coyle, author of The Roberts Court

"Through most of American history, the Second Amendment guaranteed the right to be a citizen-soldier, not an individual vigilante. With wit and erudition, Michael Waldman tells the story of how the Amendment's meaning was turned upside-down and inside-out."
— David Frum, author of The Right Man: An Inside Account of the Bush White House

"Michael Waldman gives us the turbulent life story of the Second Amendment. If one clause of the Constitution better deserved a quiet retirement, it is our right to keep and bear arms, a vestige of the Founding Fathers' concern with the role of the militia in a republican society. Yet today the Second Amendment has become one of the feistiest, most disputed clauses of the Constitution, and Waldman vividly explains why this obscure, minor provision has become so controversial."
— Jack Rakove, author of Original Meanings

"Partisan pseudo-histories of gun regulation and the Second Amendment abound. Michael Waldman's excellent book slices through the propaganda with candor as well as scholarship. It advances an authentic and clarifying history that will surprise and enlighten citizens on all sides of the issue. Here is a smart and cogent history that performs a large public service."
— Sean Wilentz, author of The Rise of American Democracy

"Anyone interested in the hot button issue of guns and their place in our society will find this book a helpful tool for ongoing discussion."
— Decatur Daily (Alabama)

"The Second Amendment is a smart history of guns and the US . . . his calm tone and habit of taking the long view offers a refreshing tonic in this most loaded of debates."
— Los Angeles Times

"Waldman's detractors would do well to read the book, which focuses less on taking a position on gun control and more on explaining what the Founding Fathers intended when they approved the amendment and how subsequent decisions from the U.S. Supreme Court and elsewhere have transformed that intent. . . . Seeing the subject discussed and dissected in untypically calm, scholarly tones, then, is a refreshing development."
— Miami Herald

"Rigorous, scholarly, but accessible book."
— New York Times

"Compelling"
— Washington Post

"An insightful look at both the historical foundation of the Second Amendment . . . a welcome re-injection of historical context into the present debate over the rightful role of guns in American culture."
— Chicago Tribune

"A welcome addition to the ongoing debate over gun rights and gun control in America."
— The Buffalo News

"Terrific"
— Nicholas Kristoff