You are here
Back to top
Good Rockin' Tonight: Twenty Years on the Road and on the Town with Elvis (Paperback)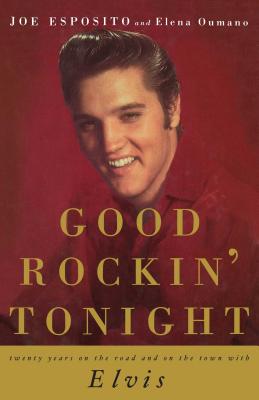 $18.99

Usually Ships in 1-5 Days
Description
---
After nearly two decades as Elvis Presley's right-hand-man, Joe Esposito gives readers an honest and vivid memoir filled with stories and answers as he recalls the wondrous and exciting life of the King.

Joe Esposito first met Elvis Presley in the Army in Germany where they would play football together and travel to Paris for the Holidays. When their days as soldiers were done and Presley moved on to a life on the road and a star in Hollywood, he brought Esposito with him as his road manager.

For the first time, Elvis's closest confidant, best friend, and the unofficial don of the infamous Memphis Mafia is pulling the curtain back on his time with Elvis in order to set the record straight and tell readers what life with the King was really like.

This fond and honest memoir shares the good and the bad of life on the road with Elvis, from the concerts to the parties and all the women in between. Complete with sixteen pages of rare photographs, Good Rockin' Tonight answers the unanswered questions about the life of Elvis Presley, from his long years in Hollywood to his tragic descent into drugs and all of the relationships he made along the way.
About the Author
---
Best known as Elvis Presley's road manager and best friend, Joe Esposito met Elvin in the army in 1958 while stationed in Germany and continued to work with him until Elvis' death in 1977. Esposito also worked with Michael Jackson, The Bee Gees, Karen Carpenter, and John Denver. He has written multiple books about his life with Elvis and was a great source of stories and antidotes for Elvis fans until the day he passed, constantly appearing at Elvis conventions and celebrations.