You are here
Back to top
Basic Attending Skills: Foundations of Empathic Relationships and Problem Solving (Paperback)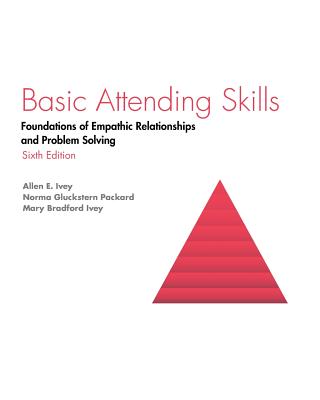 $57.07

Usually Ships in 1-5 Days
Description
---
In Basic Attending Skills: Foundations of Empathic Relationships and Problem Solving, students learn and master the fundamental skills of listening, including attending behavior, questions, encouragers, paraphrasing, reflection of feelings, and summarization through a straightforward, step-by-step process. Readers discover how the essential skills of listening and interviewing are critical for counseling, psychotherapy, and meaningful interpersonal communication.

Over the course of eight chapters, students review basic attending skills, effective listening strategies, the community genogram, emotional regulation, and more. They learn how to leverage and apply only listening skills to complete a well-structured interview with a client that is effective, adapted to the individual, and incorporates multicultural practice. The integration of a client's behavior, thoughts, and feelings into effective treatment is also addressed.

The sixth edition includes in-depth explanation of why the community genogram is useful and how to incorporate it into an interview; a deeper focus on strengths, resiliency, and the positive asset search; and information of neuroscience, its relationship to counseling, and what practitioners need to know about the brain to work more effectively with clients.

A foundational guide for effective practice, Basic Attending Skills is well suited for introductory courses in counseling.
Dr. Allen Ivey earned his doctorate in counseling at Harvard University and is distinguished university professor (emeritus) at the University of Massachusetts, Amherst. He is a past president and fellow of the Society for Counseling Psychology of the American Psychological Association, as well as fellow of the Society for the Psychological Study of Culture, Ethnicity, and Race and the Asian American Psychological Association.
Dr. Mary Bradford Ivey earned her doctorate at the University of Massachusetts, Amherst. A fellow of the American Counseling Association, her elementary guidance program was named one of the top ten in the United States. She has lectured widely throughout the United States and internationally, and is the author of multiple books, chapters, and articles.
Norma Gluckstern Packard received her doctorate from the University of Massachusetts, Amherst, where she and Mary Bradford Ivey were among the founding members of the Women's Center. From Amherst, Norma went on to teach in the psychology department at Catholic University. She left the academic world and became the first female warden at Patuxent Correctional Facility in Maryland. While there, she developed many innovative rehabilitation programs that received national accolades, and she was featured on 60 minutes. Since then, she has moved on to writing, consulting, and teaching online.