You are here
Back to top
Snowflakes, Sunbursts, and Stars: 75 Exquisite Paper Designs to Fold, Cut, and Curl (Paperback)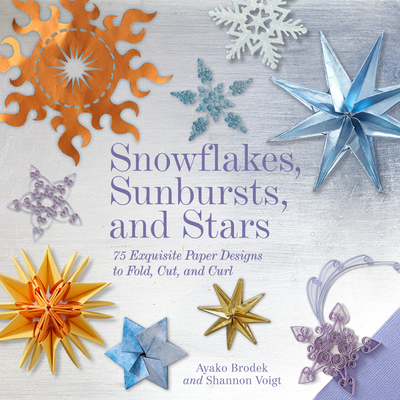 Description
---
Two experts guide papercrafters in capturing the perfect geometry and delicate beauty of some of nature's most glorious creations—using origami, quilling, and kirigami.

Ayoko Brodek and Shannon Voigt help readers craft seventy-five shapes that can then be used to fashion a multitude of decorative and practical pieces.

First, they clearly explain the essentials, such as tools, paper choices, and instructional symbols. Then, Brodek demonstrates the core techniques of origami (folding) and kirigami (cutting), while Voigt covers quilling (curling). Skill level is indicated for each design, along with detailed directions, step-by-step photos, beautiful color shots of completed designs and projects, and templates where needed.

The book is organized by craft and then motif within each section. An entire chapter of projects, including quilled window ornaments, coasters, and mobile; origami earrings, gift tags, and garland; and kirigami place cards, notecards, and silhouettes, offer readers many ideas for showcasing their stunning creations.
About the Author
---
Ayako Brodek's love of origami began when she was a little girl in Japan. After moving to the United States, her fascination with paper folding continued, and she founded OriCraft (www.oricraft.com) to introduce her work to a wider audience. She has since embraced a variety of paper arts, and works to design paper creations that can be loved and used in everyday life, exploring ways to combine papercrafts with other craft techniques. Brodek is also the author of Kodansha's Origami Jewelry.

Ever since she was young, Shannon Voigt has had a passion for creating. Consequently, she taught herself a wide variety of skills including cake decorating, quilting, crocheting/knitting, and quilling. In 2008, she took up quilling again, and began selling quilled snowflakes in her Etsy shop, ForeverFiligree. Her snowflakes have sold all around the world and have been used as design elements in holiday catalogs from Jockey International and Sundance.
Praise For…
---
"I absolutely adore this book! If you're looking for elegant and sophisticated paper crafting ideas, Snowflakes, Sunbursts, and Stars: 75 Exquisite Paper Designs to Fold, Cut, and Curl by Ayako Brodek and Shannon Voigt is chock full of creative inspiration. This beautifully designed book will show you how to fold snowflakes for your Christmas tree, sunbursts for decorating handmade note cards, and stars to use as unique gift toppers. . . . there's something to excite almost every paper crafting enthusiast. . . . a great way to expand your creative horizons." – Dana Hinders, Origami.About.com



"Beautiful. . . . if you're a beginner or someone with experience you'll find the perfect projects just for you. These pretty curled, folded and cut designs make wonderful ornaments, packaging embellishments, card accents, jewelry, home décor items and more!" – CraftGossip.com



"It's such a treat to see what can be done with paper when it is cut, curled, or folded - AKA kirigami, quilling, and origami! Sounds fancier with the more official names, but all three are easy no matter what you call them...and the projects are perfect year round, some of the snowflakes look like flowers (in red and orange instead of white!), the shape called Radiant would serve well as a Star of David." –Paper Creations



"Snowflakes, Sunbursts and Stars: 75 Exquisite Paper Designs to Fold, Cut and Curl is one of those books that just excites me down to the core of my paper crafting soul. . . . I absolutely recommend this book – it's one of my favorite books of 2013!" – Don't Eat the Paste