You are here
Back to top
Champagne [Boxed Book & Map Set]: The Essential Guide to the Wines, Producers, and Terroirs of the Iconic Region (Hardcover)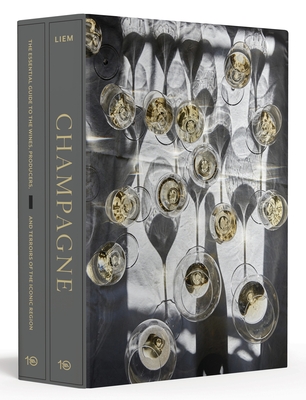 $90.00

Usually Ships in 1-5 Days
Description
---
Winner of the 2018 James Beard Foundation Cookbook Award in "Reference, History, Scholarship"
Winner of the 2017 André Simon Drink Book Award
Winner of the 2018 International Association of Culinary Professionals (IACP) Cookbook Award for "Wine, Beer & Spirits"

From Peter Liem, the lauded expert behind the top-rated online resource ChampagneGuide.net, comes this groundbreaking guide to the modern wines of Champagne--a region that in recent years has undergone one of the most dramatic transformations in the wine-growing world. This luxurious box set includes a pullout tray with a complete set of seven vintage vineyard maps by Louis Larmat, a rare and indispensable resource that beautifully documents the region's terroirs. With extensive grower and vintner profiles, as well as a fascinating look at Champagne's history and lore, Champagne explores this legendary wine as never before.
About the Author
---
PETER LIEM is an American wine writer and the author of ChampagneGuide.net. Following nearly a decade in the wine trade, he was a senior editor, critic, and tasting director for Wine & Spirits, and his writings on sherry, champagne, and other wines have also appeared in publications such as The World of Fine Wine, The Art of Eating, and The San Francisco Chronicle.
Praise For…
---
"This is a welcome, essential guide that succeeds in transporting our understanding of Champagne into the 21st century."
—Eric Asimov, New York Times

"I'm in awe of what Peter Liem has put together in his aptly named book, Champagne. There are enough facts, stories, details, and historical anecdotes here to keep anyone engaged, from the casual drinker to the champagne collector. This will be one of the definitive books on Champagne for many years to come." 
—Daniel Humm, chef/co-owner of Eleven Madison Park, The NoMad, and Made Nice 

"For Champagne lovers—and all wine lovers—here's the book that changes everything. Peter Liem deftly tells the story of the real people and places that define one of the world's most important wine regions. With impeccable scholarship and detail, he redefines Champagne as a living, breathing place, one in the midst of glorious transformation. This is sure to become an essential reference for one of the world's most beloved wines."
—Jon Bonne, author of The New California Wine

"I've known Peter for twenty years and his commitment to wine education through his writing is unrivaled in the industry. This book is a culmination of his commentary on every vineyard he has walked, every glass he has raised, and every relationship he has cultivated since he moved to Champagne. This is not only an incredible reference book for the region but also a refreshingly beautiful tome." 
—Rajat Parr, Sandhi Wines and author of Secrets of the Sommeliers

"Champagne is assuredly among the most important references to this captivating region. It is more than a tome for experts, however, and will prove an invaluable introduction to the curious novice as well. It delves satisfyingly into the back story, explaining thoroughly yet in a highly-readable fashion the reasons for the great diversity of styles that one finds in Champagne today. Liem tackles the big issues in the region with diplomacy and insight and leaves the reader with a deep appreciation for the complexity of champagne. Of particular note are his well-chosen appreciations of single cru and single vineyard wines in each sub-region, and his affectionate yet discerning profiles in the final section of the book.  This is required reading for the dedicated fan and curious novice alike. Bravo!" 
—Charles Curtis MW

"With Peter Liem's book the literature of Champagne takes a leap into a new level of knowledge and understanding. Written in this author's transparent, delicate prose, the effect is like a lazy balloon ride over the whole Champagne landscape, all of its hills and vineyards, and the wonderful people who work them. Peter Liem is a judicious taster and a clear thinker, and I predict that we who love Champagne will wonder how we ever did without this book."
—Terry Thiese, author and importer

"Liem has written a beautiful book, focusing on champagne not as a luxury tipple but as serious wine, expressive of the place where it is grown rather than the lifestyle of the person drinking it."
—Dave McIntyre, The Washington Post

"Get the flutes out: There's only one way to go about exploring this deep resource, and that's with a glass of bubbly in hand. It's complete with vintage vineyard maps, tips on serving and storage, and an in-depth look at the producers of the drink behind every engagement, birthday party and New Year's celebration." 
—Abby Reisner, Tasting Table