You are here
Back to top
Surrender. 40 canciones, una historia / Surrender: 40 Songs, One Story (Paperback)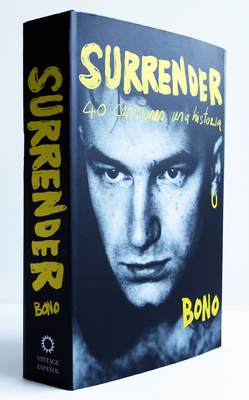 $25.95

Usually Ships in 1-5 Days
Description
---
Las memorias de Bono, el vocalista principal de U2. Un libro honesto e irreverente, íntimo y profundo, Surrender es la historia de su vida, de sus retos, y de los amigos y familia que lo han sostenido.
 
Se trata de uno los artistas más icónicos de la música en todo el mundo y se han escrito miles y miles de páginas sobre su carrera; sin embargo, en Surrender, es ahora Bono quien se sienta ante la hoja en blanco para contarnos, por primera vez y en primera persona, los detalles de su formidable vida y las personas con las que la ha compartido.
 
Su indistinguible voz nos conduce en un recorrido que va desde su infancia en Dublín, pasando por la repentina muerte de su madre cuando tenía 14 años y el insólito camino que hubo de recorrer U2 para convertirse en uno de los grupos de rock más influyentes del planeta, hasta llegar a un examen de las más de dos décadas que ha dedicado al activismo, luchando contra el SIDA y la pobreza extrema.
 
La escritura de Bono, con la que ha realizado un ejercicio de autorreflexión honesta, no exenta de un saludable sentido del humor, logra abrir más el foco sobre su vida, así como sobre su familia, sus amigos y sus creencias, los cuales le han servido de apoyo, acicate y ejemplo durante todos estos años.
 
ENGLISH DESCRIPTION
 
Bono—artist, activist, and the lead singer of Irish rock band U2—has written a memoir: honest and irreverent, intimate and profound, Surrender is the story of the remarkable life he's lived, the challenges he's faced, and the friends and family who have shaped and sustained him.
 
"When I started to write this book, I was hoping to draw in detail what I'd previously only sketched in songs. The people, places, and possibilities in my life. Surrender is a word freighted with meaning for me. Growing up in Ireland in the seventies with my fists up (musically speaking), it was not a natural concept. A word I only circled until I gathered my thoughts for the book. I am still grappling with this most humbling of commands. In the band, in my marriage, in my faith, in my life as an activist. Surrender is the story of one pilgrim's lack of progress... With a fair amount of fun along the way." —Bono
 
As one of the music world's most iconic artists and the cofounder of the organizations ONE and (RED), Bono's career has been written about extensively. But in Surrender, it's Bono who picks up the pen, writing for the first time about his remarkable life and those he has shared it with. In his unique voice, Bono takes us from his early days growing up in Dublin, including the sudden loss of his mother when he was fourteen, to U2's unlikely journey to become one of the world's most influential rock bands, to his more than twenty years of activism dedicated to the fight against AIDS and extreme poverty. Writing with candor, self-reflection, and humor, Bono opens the aperture on his life—and the family, friends, and faith that have sustained, challenged, and shaped him.
 
Surrender's subtitle, 40 Songs, One Story, is a nod to the book's forty chapters, which are each named after a U2 song. Bono has also created forty original drawings for Surrender, which will appear throughout the book.
About the Author
---
Paul David Hewson, conocido mundialmente como Bono, vocalista principal de U2, nació en Dublín. Conoció a The Edge, Larry Mullen Jr. y Adam Clayton en el instituto y juntos formaron el grupo U2 en 1978. Lanzaron su primer álbum, Boy, en 1980, con la discográfica Island Records, y hasta la fecha han publicado un total de catorce álbumes de estudio que han vendido 157 millones de copias en todo el mundo. Su Tour 360° (2009-2011) batió todo tipo de récords y a día de hoy sigue siendo la gira de un grupo musical más taquillera de todos los tiempos; la revista Rolling Stone la definió como "una actuación en vivo que no tiene parangón". La banda U2 ha ganado numerosos premios, más que cualquier otro dúo o grupo musical, y entre ellos destacan 22 Grammys, una nominación a los Oscars o el premio Ambassador of Conscience de Amnistía Internacional. En 2005 el grupo fue incluido en el Rock'n'Roll Hall of Fame.
 
Además de su papel en U2, Bono es un incansable activista. Lideró la campaña "Drop the Debt" para la organización Jubilee 2000, y luchó después contra la transmisión del HIV/SIDA y la pobreza extrema fundando las organizaciones hermanadas ONE y (RED). ONE es un movimiento compuesto por millones de personas que se dedica a luchar contra la pobreza y las enfermedades prevenibles. Con ONE, Bono ha presionado a jefes de Estado y legisladores de todo el mundo para favorecer la aprobación de programas como el U.S. PEPFAR AIDS, que ha contribuido a salvar la vida a decenas de millones de personas a lo largo de los últimos 20 años. (RED), que colabora con distintas organizaciones para sensibilizar a la población y a las grandes corporaciones sobre la crisis del SIDA, ha recaudado hasta la fecha más de 700 millones de dólares para el Global Fund con el objetivo de tratar y prevenir el SIDA en África. Desde 2020 ONE y (RED) han luchado contra el virus COVID-19 y su impacto en los países en desarrollo. En 2016 Bono cofundó The Rise Fund, un fondo de impacto global que invierte en empresas que impulsan un cambio social y medioambiental positivo, en consonancia con los Objetivos de Desarrollo Sostenible.
 
Bono ha recibido todo tipo de galardones por su labor como músico y activista, como el premio Freedom of the City of Dublin (con U2), la Medalla de Honor Presidencial Pablo Neruda de Chile, el reconocimiento de la Legión de Honor del gobierno francés, el título de Caballero Honorario Británico, el premio Fulbright Association para la Cooperación Internacional, y ha sido persona del año según la revista TIME, junto a Bill y Melinda Gates. Actualmente vive en Dublín con su mujer, Ali Hewson.