You are here
Back to top
Artful Etching: Midnight Garden (Paperback)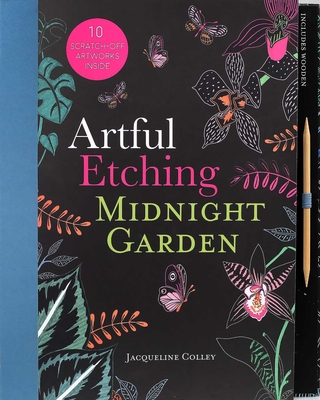 Description
---
Colorful animals and flowers emerge magically from the darkness as you etch away the lines!

Scratch away the lines in Artful Etching: Midnight Garden to reveal the colorful flora and fauna hidden in the darkness. Etch the ten scenes in the book using the included tool to reveal colorful animals and flowers, resulting in gorgeous artworks. All the etching pages have outlines to follow, and it's up to you to decide how much detail to reveal! An introductory section describes how to etch the scenes for the best results, and examples of finished pieces are included for reference.
 
About the Author
---
Jacqueline Colley is a quirky illustrator, pattern designer, and plant-lover based in London, England. Her long list of clients include Ohh Deer, Oasis, Geo-Fleur, and Heals. She has won two awards and occasionally teaches courses at the Victoria and Albert Museum, the world's leading museum of art and design. Jacqueline's popular instagram feed is full of travel and nature-themed illustations and you can buy her specially designed prints, pins, and stationery on her website, www.jacquelinecolley.co.uk.