You are here
Back to top
The Carbon Footprint of Everything (Paperback)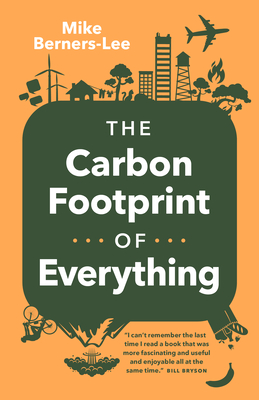 $18.95

Usually Ships in 1-5 Days
Description
---
"Fascinating and useful and enjoyable."--BILL BRYSON
Reduce your carbon footprint and understand the issue with this "up-to-date life guide for carbon-conscious readers."--Kirkus
Calculate your carbon footprint: with an item-by-item breakdown.
Meet your company's carbon goals: using the latest research.
Covid-19 and the carbon battle: understand the new global supply chain.
The Carbon Footprint of Everything breaks items down by the amount of carbon they produce, creating a calorie guide for the carbon-conscious. With engaging writing, leading carbon expert Mike Berners-Lee shares new carbon calculations based on recent research. He considers the impact of the pandemic on the carbon battle--especially the embattled global supply chain--and adds items we didn't consider a decade ago, like bitcoin and other cryptocurrencies.
Supported by solid research, cross-referenced with other expert sources, illustrated with easy-to-follow charts and graphs, and written with Berners-Lee's trademark sense of humor, The Carbon Footprint of Everything should be on everyone's bookshelf.
The Carbon Footprint of Everything is an extensively revised and updated edition of How Bad Are Bananas.
About the Author
---
Mike Berners Lee is a leading expert in carbon footprinting and the author of several books. He is a professor and fellow of the Institute for Social Futures at Lancaster University and director and principal consultant of Small World Consulting, based in the Lancaster Environment Centre.