You are here
Back to top
The Easy 5-Ingredient Ketogenic Diet Cookbook: Low-Carb, High-Fat Recipes for Busy People on the Keto Diet (Paperback)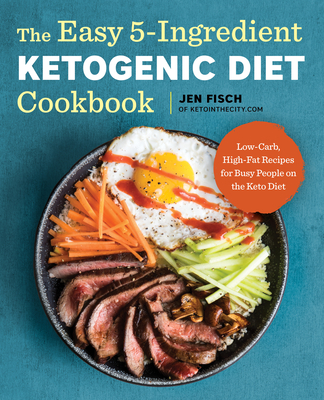 $14.99

Usually Ships in 1-5 Days
Description
---
The ketogenic diet made fast and easy with 5-ingredient recipes
FIND CONVENIENT & EASY KETO-FRIENDLY MEALS: When life gets busy, sticking to your diet can be hard, but this keto cookbook helps you stay on track with recipes that only require a handful of ingredients to cook a complete and satisfying meal- whether weight loss is your concern or not. It's your guide to turning everyday, easy-to-find foods into keto-friendly meals that are full of the healthy fats your body needs to thrive but fast enough to throw together even on your most hectic day.
What sets this book apart from other keto cookbooks:
EXPLAINS THE BASICS OF KETO: Get an overview of the ketogenic diet so you'll understand what makes these recipes keto, and learn how to count macros and interpret nutritional information.
QUICK & EASY MEALS: Recipes require only 5 main ingredients, not including basic kitchen staples like salt and pepper, and most can be made in less than 30 minutes or in just one pot or pan.
TIPS FOR CUSTOMIZABLE OPTIONS: Use the quick tips for swapping out ingredients to adapt these dishes to your own tastes and health needs for something you'll love to eat.
Make the ketogenic diet work for you, with a collection of simple recipes you can always find time for.
About the Author
---
JEN FISCH is the author of the internationally bestselling cookbook The Easy 5-Ingredient Ketogenic Diet Cookbook and creator of the blog Keto In The City. She is passionate about offering simple solutions for following the ketogenic lifestyle. Jen has battled autoimmune disorders for 20 years and found the ketogenic diet to be the most simple, delicious way to manage her symptoms and her busy lifestyle. Jen believes in using easy-to-find ingredients to make eating keto as attainable as possible. She lives with her daughter in Hermosa Beach, California.
Praise For…
---
"Compliance is the #1 factor that allows people to stay in ketosis and experience the benefits of a ketogenic diet. Jen has provided an incredible number of recipes that are not only easy to make, they're delicious enough to motivate people from complying with the keto diet to following a keto lifestyle."—Ryan P. Lowery, PhD (c), President of the Applied Science and Performance Institute, and author of The Ketogenic Bible

"Cooking keto doesn't have to be difficult or expensive. In The Easy 5-Ingredient Ketogenic Diet Cookbook, Jen Fisch proves that keto-friendly cooking can be simple, quick, and affordable, and it can be delicious, too. Unlike other keto experts whose recipes seem to require a long list of expensive, hard-to-find ingredients and a PhD in Chemistry, Jen's cookbook shows how easy and delicious healthy keto meals can be."—Ken D. Berry, MD, and author of Lies My Doctor Told Me

"So you've jumped into this keto thing, and now you're wondering what to eat and how to prepare it. Look no further than The Easy 5-Ingredient Ketogenic Diet Cookbook. It's loaded with keto-friendly recipes that are not only insanely delicious but also super easy to make. Jen's book is a must in any keto-friendly kitchen."—Yemeni Mesa, President of Know Foods, @keto_head on Instagram

". . . perfect for anyone with a busy lifestyle (aka, everyone). Learn how to make the cult-favorite bulletproof coffee, bacon and egg cauliflower hash and broccoli cheese soup in minutes." —Chowhound Staff, cnet.com