You are here
Back to top
Queen Elizabeth II: The Life, Times, and Glorious 70 Year Reign of England's Iconic Platinum Monarch (1926-2022) - Her Fight for the Palac (Royal Family) (Paperback)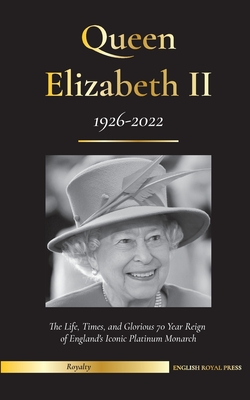 $14.99

Usually Ships in 1-5 Days
Description
---
Do you want to know everything there is to know about Queen Elizabeth II?
Queen Elizabeth II died in 2022, at the age of ninety-six. She was the longest reigning British monarch in history and her death leaves a gaping hole in the British royal family. The queen's death sent the nation into mourning. The queen will be remembered for her long reign, her dedication to her country, and her love for her family.
This book tells the story of one of the most iconic and fascinating women in history. Elizabeth II has been a part of the British monarchy for over 70 years and her reign has seen some incredible changes. Read all about her life, times, and glorious reign in this comprehensive book.
In 1926, a young woman named Elizabeth Alexandra Mary was born to King George V and Queen Mary of England. She was the third child and second daughter of the royal couple, and she would go on to inherit the throne after her father's death in 1936. Elizabeth would reign as Queen of England for 70 years, becoming one of the longest-serving monarchs in English history.
She would also come to be one of the most beloved. Even early in her reign, Elizabeth proved herself to be a strong and capable leader, helping to guide the country through World War II. After the war ended, she set about rebuilding England's shattered economy and creating a new social welfare system. She also worked to strengthen the monarchy's ties to the people, visiting all corners of her country and earning the affectionate nickname "the People's Queen."
Throughout her long reign, Elizabeth has faced many challenges - including divorces, scandals, and even an attempted assassination. But she has always remained dignified and steadfast, earning the respect and admiration of her subjects. In 2002, Elizabeth became the longest-reigning British monarch in history, leaving a lasting legacy as one of England's most iconic monarchs.
Read everything there is to know about the life of Queen Elizabeth II. Grab your book today