You are here
Back to top
Food for a Year: The Leading Prepper's Guide to Easily Acquiring, Storing, Stockpiling and Preparing Shelf-Stable Foods for Long-Term S (Paperback)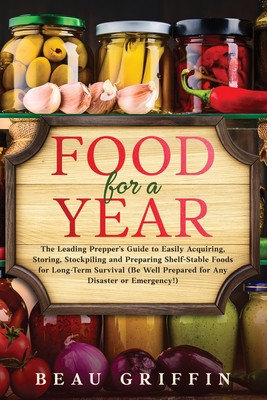 $9.95

Usually Ships in 1-5 Days
Description
---
Build a 1-Year Food Supply That Will Keep You Alive When Disaster Strikes
You are unprepared...
Unprepared for a seismic change in the world that could leave you alone and in danger.


That's why you're thinking about ways to safeguard your future, protect your family and maintain your health should the worst happen. Some say it never will, but you can't switch off unless you know you're prepared the right way.


Well, when you know how to guarantee a long-term food supply in any scenario, you can rebuild, recover and restart your life without having to worry even one bit


Inside this expert guide you'll discover:
- Why Food Prepping Is the Habit of a Lifetime and how you can use it to make sure you're never caught short or left exposed by the outside world.
- How to Select Foods to Stockpile so you never fall victim to spoiled ingredients and unhealthy options that you can't sustain yourself on.
- The Mindset of a Prepper and how you can turn it into your biggest advantage, no matter what happens out there in the world.
- Beginner Prepper Tips that allow you to get off to a fast start without ever having to worry about the direction you're taking.
- How to Stockpile Food the Right Way to prepare the ultimate food collection that will keep you alive when disaster strikes
... Plus So Much More


This unique book is designed to show you a simpler way to safeguard your future, maintain your health, and protect your family all at the same time.
It's an investment in a better way of life that you will be truly thankful you made should the worst happen.
And if it doesn't, you still get the peace of mind and low-stress lifestyle that comes from knowing you always have exactly what you need to keep you and your family protected and your future secure.


GRAB YOUR COPY TODAY